Guaranteeing well engineered Industrial Gaskets, Rubber Cork Sheets, Metal Shims, Automotive Gaskets, Mild Steel Components, and more...

Company Intro

Gujarat Cork Industries was established in 1985 to provide supreme quality of Rubberized Cork Sheets, and other Cork & Rubber Products. We are among the top notch Exporters, Manufacturers, and Suppliers operating from Vadodara, Gujarat (India). Baroda Cap Liners is a well established Gasket Manufacturing Unit. The product array offered by us encompasses Industrial Gaskets, Rubber Cork Sheets, Custom Gaskets, Rubber Moulded Parts, Rubber Gaskets, Cork Gaskets, Automotive Gaskets, Mild Steel Components, Exhaust Gaskets, etc. We also fabricate shims and washers for OEM.

Each of the product is manufactured under expert supervision, using the premium quality of materials. We are equipped with latest technology and state of the art machines. These aid us in bringing forth well engineered product array as per customer specifications.

Leaving no stone unturned when it comes to equipping each client with a fantastic product, the company sees to it that our team conducts rigorous tests on each and every item so as to make sure that they meet up to the required qualitative standards. The machines provided by us have a voltage protection attribute, thus running in a stable manner despite regular electricity fluctuations. The running of these machines in smooth and noiseless manner, allows a great deal of convenience to the user during operations. Guaranteeing you of receiving a top performance with ever use, such goods are bound to exceed your expectations beyond all doubt.

Quality Control

For achieving greater success in this competitive domain, we comply with the industry standards and make sure to offer defect free products. We use supreme quality of raw material which is sourced from only trusted manufacturers/ vendors. Moreover, we also have with us a well-appointed quality inspectors who are responsible for carrying out checks on the products. Some of the parameters on which our end-products are thoroughly checked include:

Toughness and thickness
Sensitivity to temperature and other oil conditions
Effective utility
Friction
Tensile strength and compressibility
Dimensional stability
Elasticity
Strength
Products Offered

We, as a trusted and leading organization, guarantee utmost quality to the buyers. Working with sheer commitment at ever level, our professionals see to it that each and every item which goes through our end runs in a faultless manner at all times. We are involved in fabrication of a wide range of products including:

Industrial Gaskets
Rubber Cork Sheets
Rubber Moulded Parts
Rubber Cork Gaskets
Metal Shims

Multi Layer AL Shims
Mild Steel Shims
Multi Layer Shims
Brass Shims
Polyester Shims

Automotive Gaskets
Mild Steel Components

Automotive Metal Components

Non Asbestos Gaskets

PTFE Gaskets
HEAD Gaskets

Exhaust Gaskets

Exhaust Manifold Gaskets Cork Gaskets
Transformer Gaskets

Rubber Gaskets

Industrial Rubber Gaskets

Non Asbestos Beater Gaskets

Non Asbestos Beater (NAB) Gaskets Asbestos Free Jointing
Asbestos Free Gasket Material
Compressed Asbestos Free Fibre Gaskets
Application Areas

Our quality approved product array assures excellent quality, and caters to the needs of number of industries. The exceptional speed and accuracy at which these equipments work is the reason why they are widely acknowledged among various companies across the globe. We are supplying to a variety of OEM industries including

Automobile Industries
Electrical Transformer
Bottling Plants
Railways
Gear Manufacturers
Jute Industries
Mining Industries
Chemical Industries, etc.
Robust Infrastructure

Our company has established a vast infrastructural facility that aids us in efficiently meeting the rising demands of the customers. Installed with latest technology and state of the art machinery, our manufacturing plant is headed by a team of supervisors. They look after different sections of the unit which includes packaging, production, quality checking, R&D, etc. Further, we have appointed skilled professionals who are involved in production of our Industrial Gaskets, Rubber Cork Sheets, Rubber Cork Gaskets, Mild Steel Shims, Multi Layer Shims, etc.

Our Team

Gujarat Cork Industries is backed by a well appointed team of professionals. They have been the helping hand in the growth as well as success of our business. With have with us highly qualified and dedicated employees who enthusiastically work in order to provide best to the customers as well as attain company's goals. Our well-experienced team members hold expertise in their respective domain, and are assigned different tasks accordingly.

We take pride in having a competent workforce which comprises:


Engineers
Production Personnel
Sales & Marketing Executives
Quality Controllers
Warehouse Keeper
Skilled and semi skilled staff

Packaging

Packaging of a product is an indispensable part of every company. You can make a world-class commodity but it would hold absolutely zero-value if it does not reach your clients in a perfect condition. This is the reason why our company has set up a separate packaging division for its goods, which is equipped with a topnotch range of automated machines as well as a team of diligent experts. These professionals use the best of wrapping material-from bubble wrap, padded foam to even cardboard boxes, in order to ensure that each patron receives an equipment in their original form.
A promise for convenience!

In the stressful days which everyone faces today, we would ever want to burden our patrons and give them even more worries than they already have, This is why we have come up with a set of first-class products which are bound to give you a level of convenience which you have never felt before. Armoring our goods with a user-friendly interface, allows any worker to face a hassle-free time while operating such machines.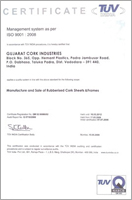 Get in touch with us